When you decide to make such a serious investment as refrigerator, it is natural that you want to be informed and gather as much information about this topic as possible. For starters, buying a fridge is classified more as a long-term investment, since you will probably want for it to last. Therefore, it is important to focus on the quality. Nevertheless, its design is also important because you will want for it to match your kitchen interior and to fit in perfectly. It often happens that people get confused due to the fact that the market offers plenty of products by different brands and it can happen that you simply don't know which way to turn. If you feel this way, hopefully the following list of best refrigerators in India will be helpful. Take a look below to find out everything about them.
1. LG 420 L 3-Star Frost Free Double Door Refrigerator – GL-1472QPZX.DPZZEBN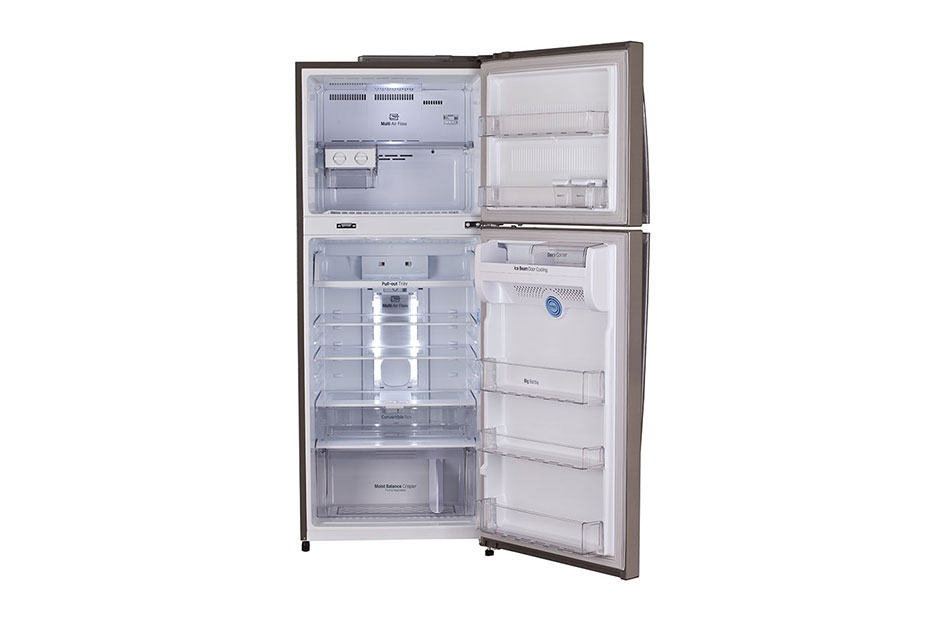 LG is generally known for the quality of its products. The same applies to the fridges. This model is perfect if you are looking for a high-quality and well-designed product of this type. One of the best features is related to the possibility to connect it to your smart phone and turn on the Smart Diagnosis feature which will detect the potential problems. Moreover, the cooling performance is amazing, which is probably the reason why this fridge is the top choice for many costumers. If you have a big family, you will absolutely love it, since it has a big storage capacity, so you will not have problems with the lack of space (420 liters). On the top of that, it also has an Ice Beam Door Cooling feature.
2. Whirlpool 240 L Frost Free Multi-door Refrigerator – FP 263D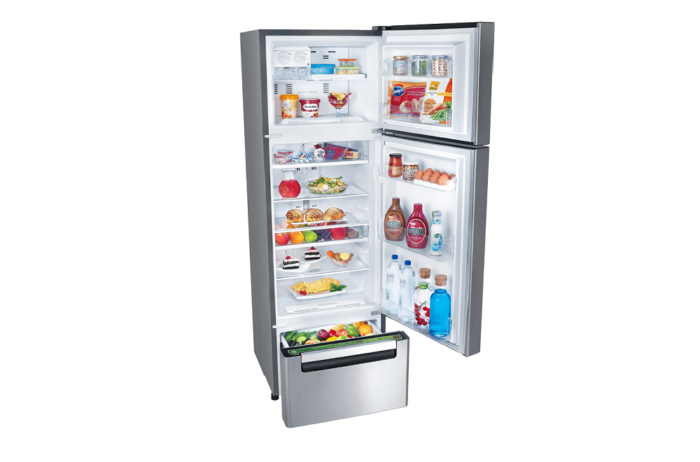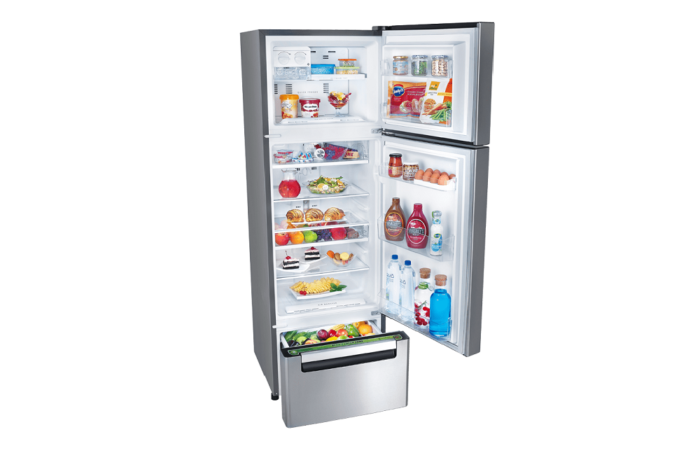 Not only is the cooling performance of this fridge excellent, but it also provides you with the highest power saving possible. The capacity is 240 liters, which is enough if you don't have a huge family. You will get a ten-year warranty, and if you decide to go for this brand, you will be pleased with it for a long time. In other words, it is made to last. The best feature is related to the three separate sections which include the vegetable box, fridge and freezer. The advantage of these sections is that there will be no mixing of food odor. On the top of that, you will be able to organize your food much easier, which makes this model even more practical. Also, the contamination by bacteria is prevented by the MicroBlock Technology.
3. Samsung 192 L 4-star Inverter Direct Cool Single Door Refrigerator – RR20T182XR8/HL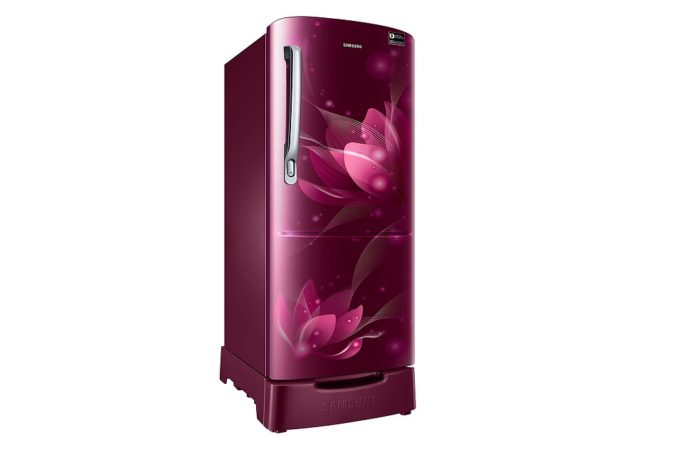 The first thing that stands out when you look at this fridge is its stylish look. In case you are not into simple, one-color-refrigerators this probably the best pick. Besides its chick design, it has pretty good performance and low power consumption. Samsung is known for high-quality and durable products. You will get a ten-year warranty and a generally excellent product. It has an additional space for storing vegetables which do not need cooling, which makes the organization of food a lot easier. One of the best things is that this model can work on the solar energy as well. The capacity is 192 liters, so it is perfect for smaller families.
4. LG 260 Liters 3-Star Frost Free Double Door Refrigerator – GL-1292RPZL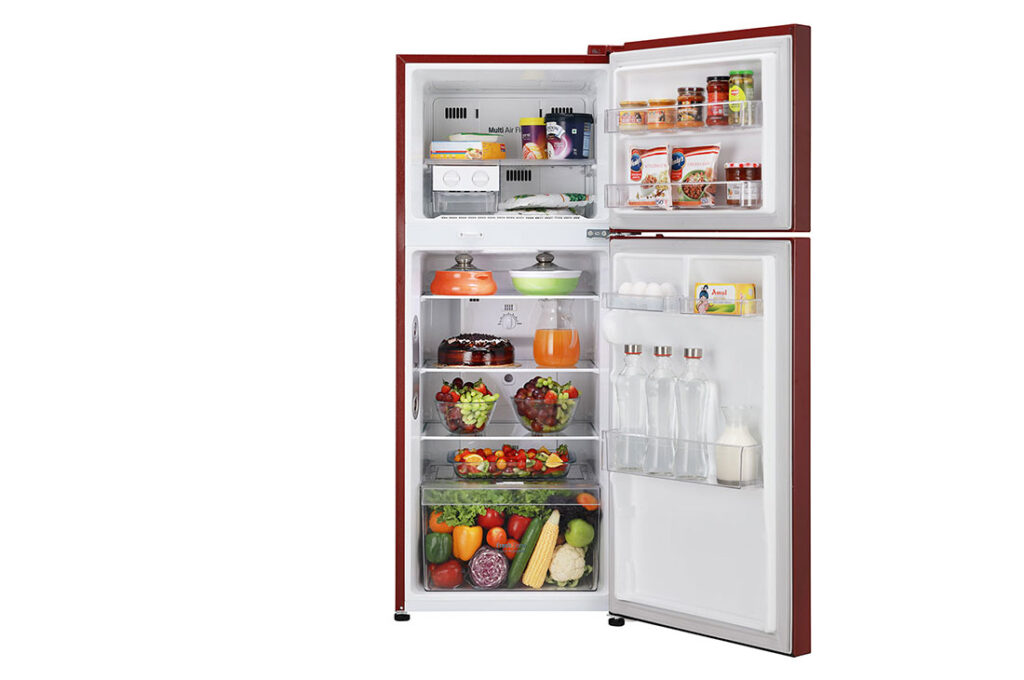 As it has been mentioned, LG is more than popular and respected brand in India. Without a doubt, this brand creates some of the most reliable products in the market. The double-door design makes it pretty easy to store food and it has a big capacity. It has a Smart Diagnosis feature, so in case a problem occurs, you will know exactly what it is. Also, the cooling performance is rather good thanks to the smart inverter compressor. When it comes to the uniformed cooling, this model is by far one of the options. In other words, thanks to the multiple airflow cooling vents, every corner of the fridge will be evenly cooled.
5. Samsung 324-L 3-Star Inverter Frost Free Double Door Refrigerator – RT34T4513S8/HL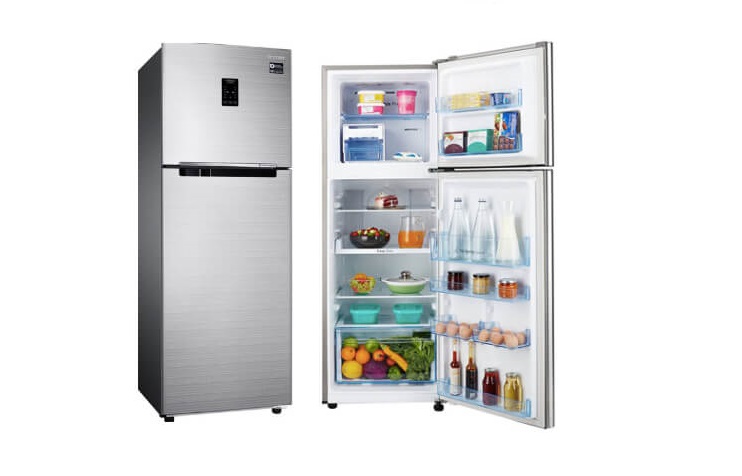 This model by Samsung is a very good option if you have a medium family and you are looking for a whole package. This fridge has it all. First, it has a digital inverter technology which makes its performance amazing. Furthermore, the converting feature makes it very easy to change its functions from fridge to freezer, and the other way around. The air circulation is controlled by Moist Fresh Zone, so you don't have to worry about the maintenance of the optimal humidity. One of the features that makes this product even more practical is the control center on the door. In this way, you can check things like temperature from the outside, without opening it. Also, the LED lighting is more than convenient since it lights up every corner of the fridge and you can easily find the food you are looking for.
Conclusion
To sum up, the market offers numerous choices when it comes to buying refrigerator. Not only are plenty of the products high-quality and well-designed, but you can find them for lower prices. Even though picking the right one might seem as a tough decision, the best piece of advice is to research as much as you can about different types of fridges. The second thing to do is to analyze your needs and different factors, such as interior, the size of your family, budget, etc. Once you have done these two things, you will easily see which model suits your needs the best. You will easily compare the features until you find the one which is by all means perfect. Hopefully, the list above was helpful. Good luck!