If you're looking to buy a microwave, you should first get acquainted with the different types of ovens on the market in India. There are really only three types which you can choose from, depending on what you are looking for. If you want a simple microwave for heating a simple food item, go for a solo microwave oven. However, if you also want to grill food, look in the direction of grill microwave ovens, which are useful in both grilling and heating up food. The last type is the convection microwave oven, which can also be used for baking alongside other, already mentioned things.
Another factor you should think about is the size of the oven. The size is specified in liters, and depending on your household size, you may decide which one works for you. For example, go for a 17-20 liter oven if your household consists of a few people, and if you have many family members or roommates living with you, opt for the 20-25 liter microwave.
If you're unsure which brand of microwave to buy, you should know that there are plenty to choose from, with many differences in features and the price range. The most well-known companies are Samsung, LG and IFB. Some brands like Godej, LG and Prestige offer a warranty period of 3 years, which is an important factor to look into.
Most ovens nowadays have an automatic sensor, which detects if the food has been heated enough and turns off the microwave. While browsing for an oven, you will notice that they have different power ratings, which of course dictates how fast the food will be made. Generally, the bigger the oven, the higher the power, so smaller microwaves will be in a range of 800 to 1000 watts, and larger ones will go up to about 1600 watts.
Microwaves can either have a touch or a mechanical control unit. Controlling the microwave with a touch sensor is a more modern and widely used approach, which prolongs the oven's quality and longevity. Also, if you have children, you might want to look into ovens with an electronic lock, which provides safety around small children.
Now, we are going to recommend some products which are currently among the best on the Indian market.
1. IFB 25 L Convection Microwave Oven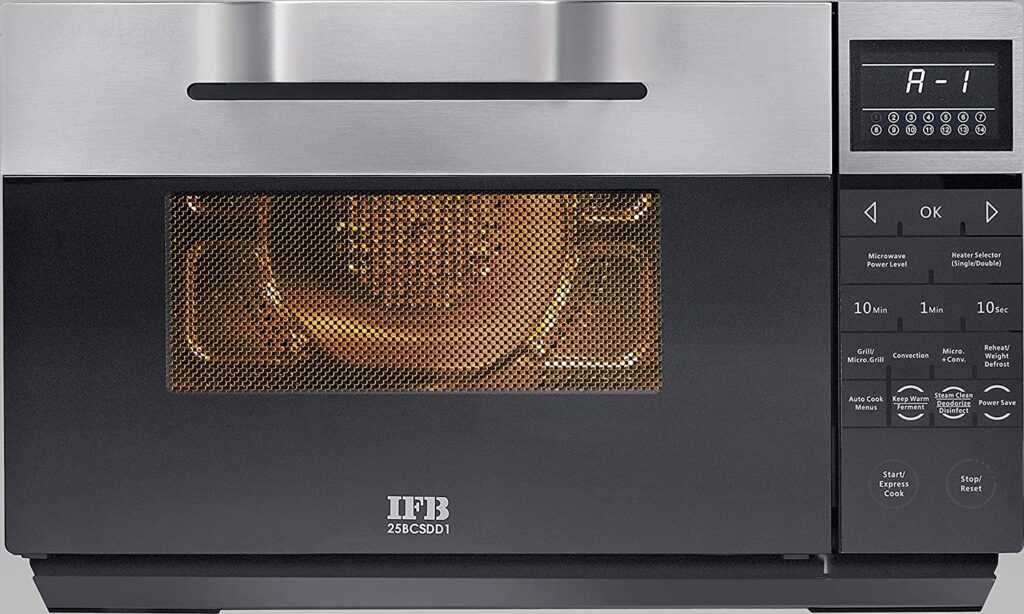 This is the type of oven for large families, as it is 25 liters. If your household has 4 or 5 people, this microwave is for you. As we already mentioned, the convection oven is used for baking and grilling, as well as heating food so you can experiment in the kitchen. This IFB oven comes with a one year warranty period. It features the touchpad system, so it should be very easy to clean and maintain. The microwave also comes with 26 options for your various needs. It's also very aesthetically pleasing because it features a stylish silver style.
2. Samsung 28 L Convection Microwave Oven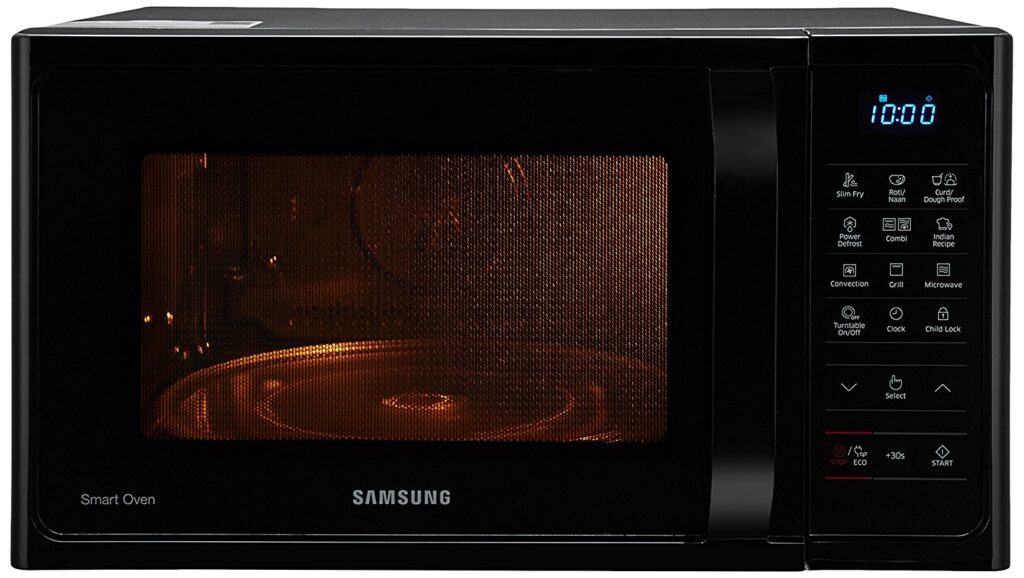 Samsung, a South Korean company has a very stable reputation in India as the best consumer electronics producer. As for this particular product, it is similar to the previous oven on the list, as it is also made for larger families, and it has a one year warranty as well. Its capacity is 28 liters, and its power rating is 2900 watts.
3. Bajaj Majesty 1603 TSS 1200-Watt Oven Toaster Grill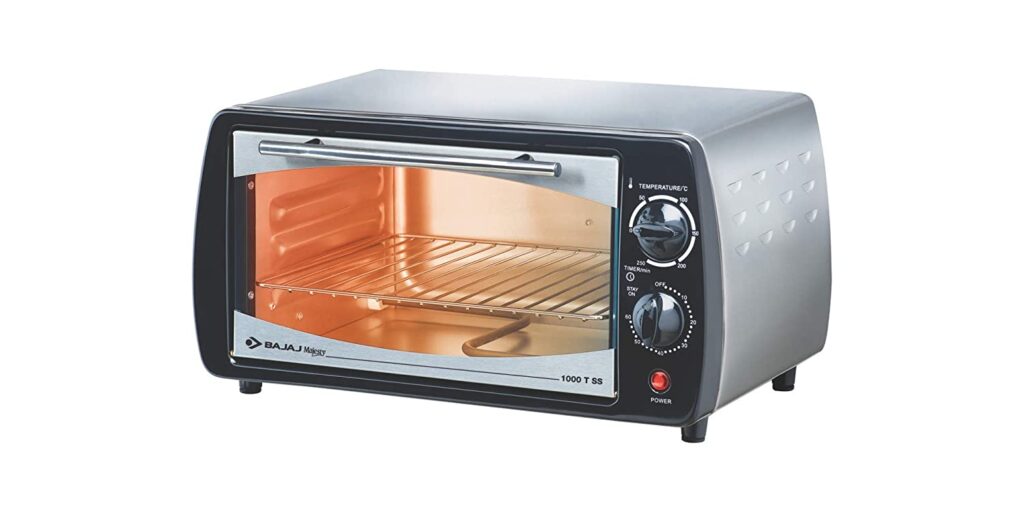 This stylish microwave is perfect for smaller families and households. It has an automatic timer, as well as a thermostat. This 16 liter microwave also comes with a one year warranty, and it is very small and light so it will make a great and convenient addition to your kitchen. The Bajaj brand has a great reputation in India, so this product of theirs has also proven to be reliable and of good quality.
4. Morphy Richards 23 L Convection Microwave Oven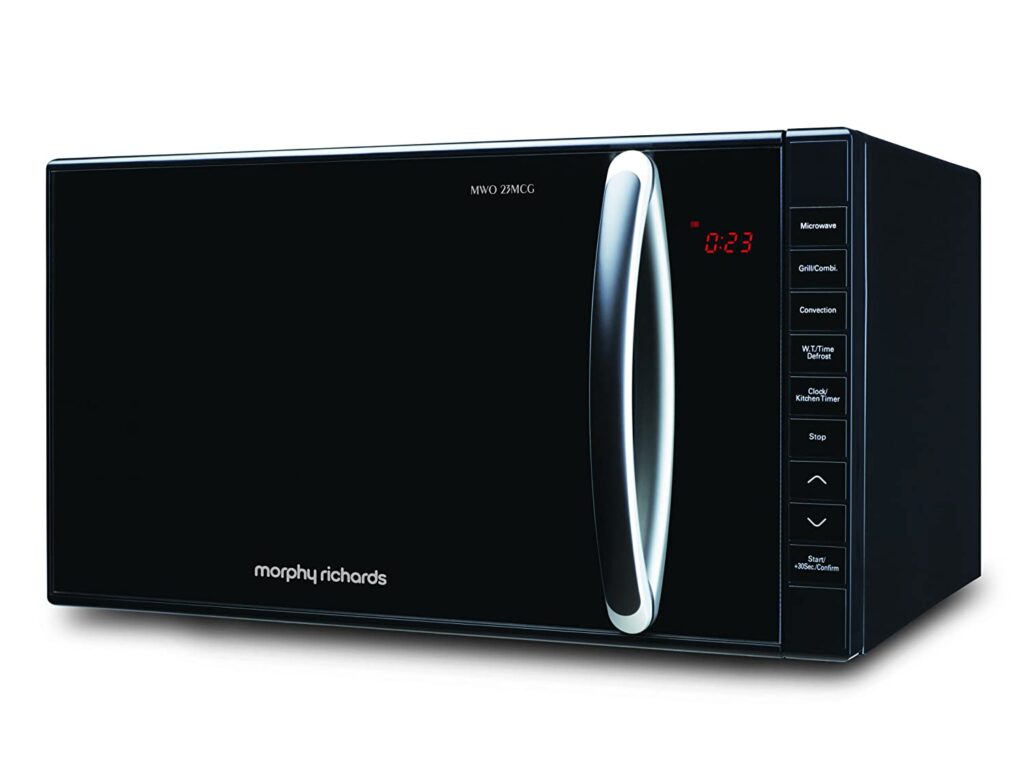 This microwave comes with 5 power levels, but it also has some extra features like the steel cavity which stops the accumulation of food in the corners of the oven, and it also makes sure that the food is heated equally. It's great for smaller households as well as singles. It comes with a touchpad and a child lock function. The warranty period is 2 years, unlike other ovens on this list.
5. LG 28 L Convection Microwave Oven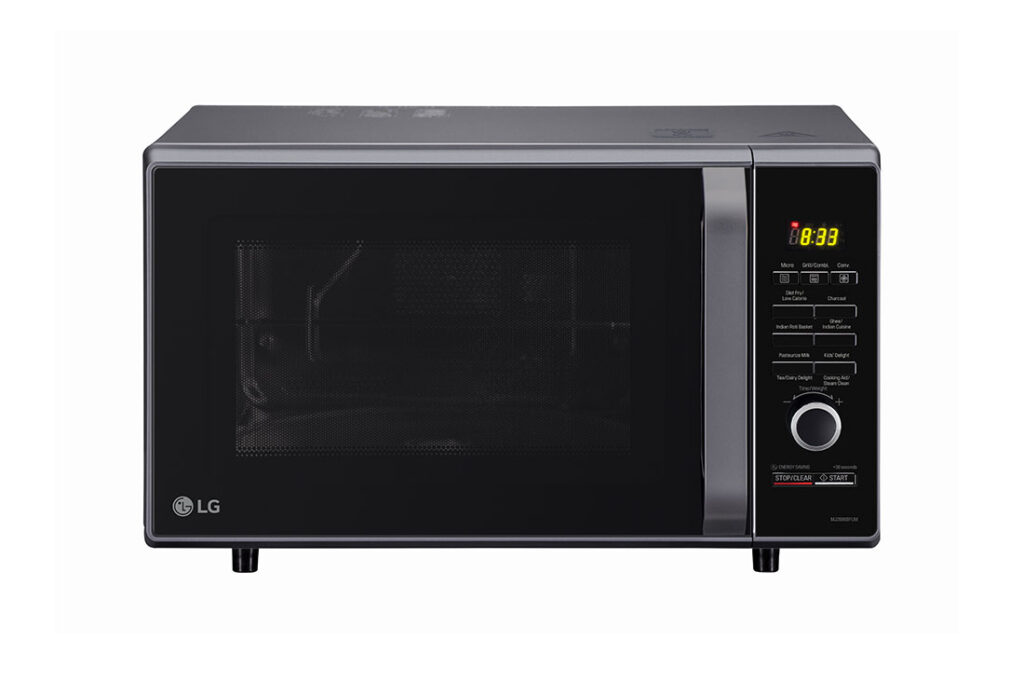 This oven is very similar to the last one, as it also features a steel cavity. If you have a larger family, this is the oven for you because its' capacity is 28 liters. It is controlled by a touchpad, and it comes with many auto cook options. The warranty period is one year. This oven makes it easier to prepare various Indian dishes like naan, missi rotis, or laccha parantha.
6. Godrej 30 L Convection Microwave Oven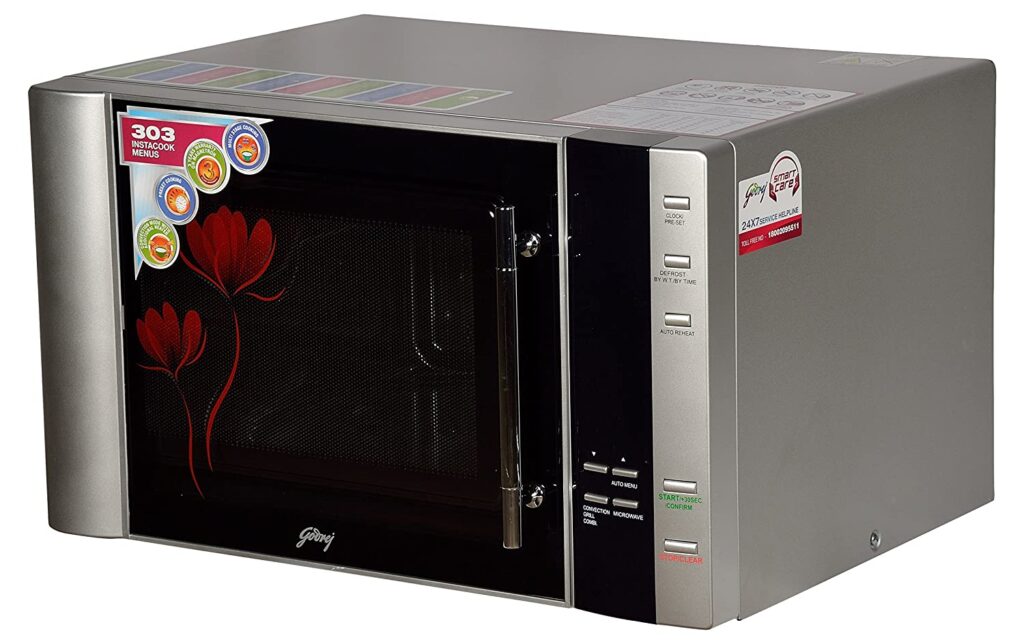 This oven has three stage cooking. There's multi-cuisine cooking which enables you to make dishes from many other cultures, primarily Indian. The insta-cook option will help you make tasty meals very quickly, and the multi-stage cooking option will make it possible to multitask. It is great for bigger families, and offers child security lock. Its made out of stainless steel.
7. Koryo 20 L Solo Microwave Oven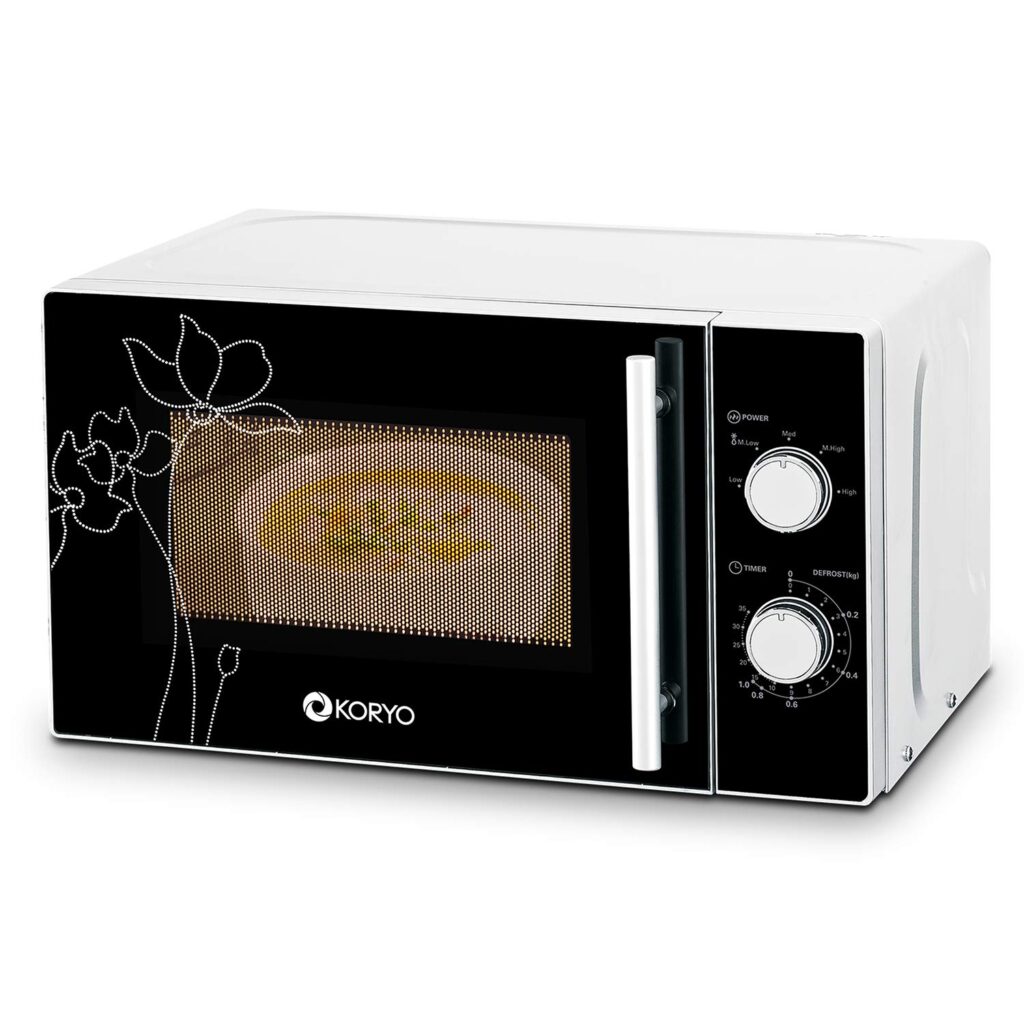 This solo microwave is a sleek and modern addition to your kitchen. This 20 liter oven is meant for families with 3 to 4 members, and it has 6 power levels. It's very practical for cleaning, as it has a removable tray. The warranty period is one year.
8. IFB 20 L Convection Microwave Oven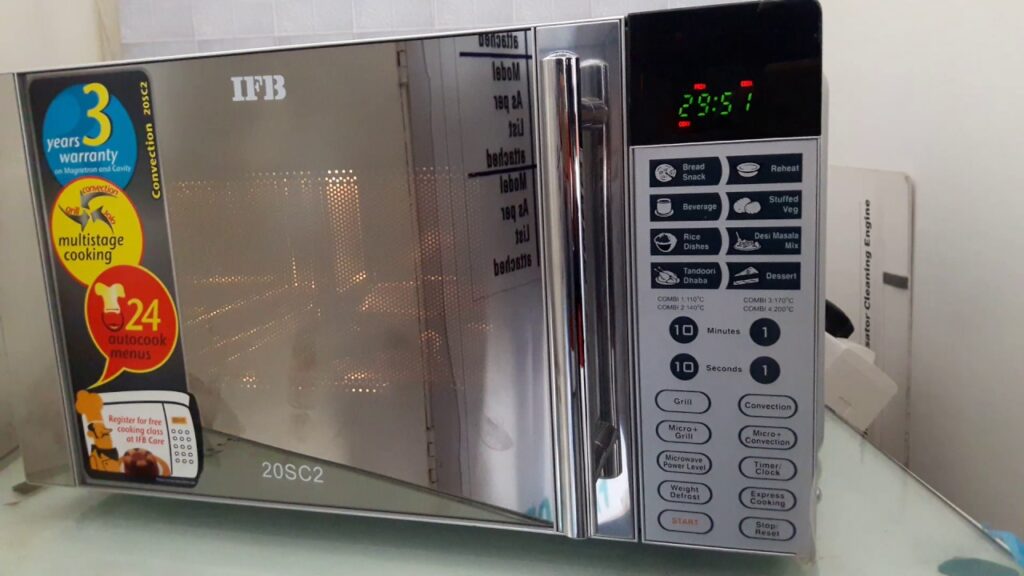 This 20 liter oven is great for bigger families, and parents with younger children. This microwave is used for heating, cooking, grilling and defrosting food. It comes with a starting kit, and it also features a touchpad system. As the other ovens on this list, this microwave also has a one year warranty.