Have you ever considered improving the cleanliness of your kitchen? We believe that you regularly, after preparing a meal, keep your kitchen as cleanly as possible with the help of various cleaning agents (degreasers, abrasives, acids, various detergents, etc.). However, what if we tell you that you can spend much less time (but also money) cleaning the kitchen, only thanks to one appliance.
Do you know what we're going to talk about today? If you said the best chimneys in India, congratulations, you are absolutely right. Thanks to these useful, but also cost-effective kitchen appliances, your kitchen will be cleaner after food preparation, free of grease, dirt, and other unnecessary things that have no place in the kitchen near the food you are preparing.
So, today we will present you some of the best chimneys in India in 2023, all based on comments, ratings and reviews of satisfied users. So, everything you will read below is based on real-life experience. Now, if you're ready, let's get started.
1. Elica Auto Clean Chimney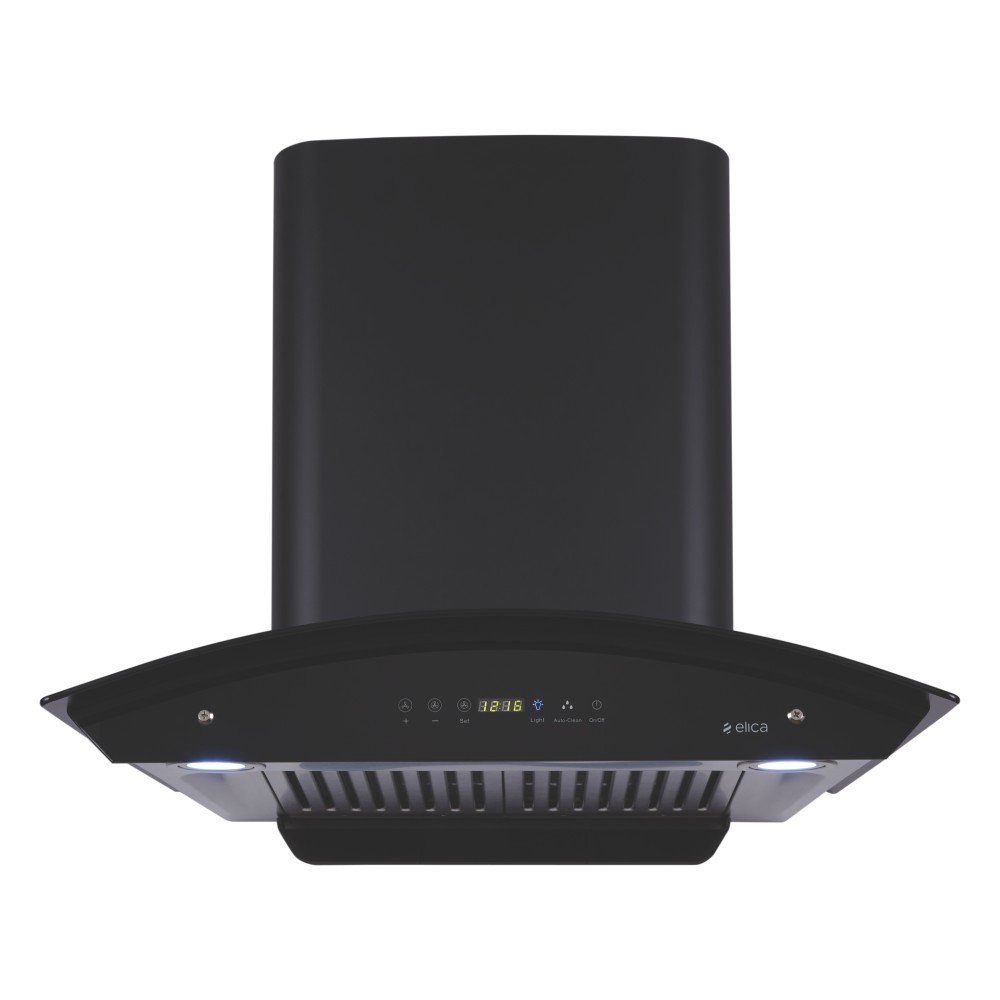 How about having a device that maintains your kitchen as cleanly as possible, plus, you don't have to spend a lot of time cleaning it? Well, this one by Elica is just like that, and not the only one like that on our list. Speaking of the manufacturer, Elica is a well-known and above all reliable brand in the Indian market. Therefore, picking this chimney is the right thing to do.
First of all, we have to say that with the Elica chimney, everything is really fitted properly and everything is at the top level. For example, we especially liked the elegant design that will bring a new look to your kitchen, as well as the touch control panel for very easy use.
However, the main feature of this chimney is the auto cleaning function. All you have to do is just press a button and that's it. The rest will be done by the device itself and all the dirt will be accumulated in the oil collector can. Also, the volume of air sucked in is 1200 cubic meters per hour. The Elica chimney also has a baffle filter that prevents any clogging and obstruction of air flow.
Finally, we must say that this chimney is economical, as well as its other components. For example, two LED bulbs that provide fantastic lighting when preparing food consume only 3 Watts, while the chimney itself consumes 180 Watts. As for the warranty, there is a double warranty here-1 year for the whole chimney and 5 years for the motor.
2. Hindware Nevio 90 AutoClean Chimney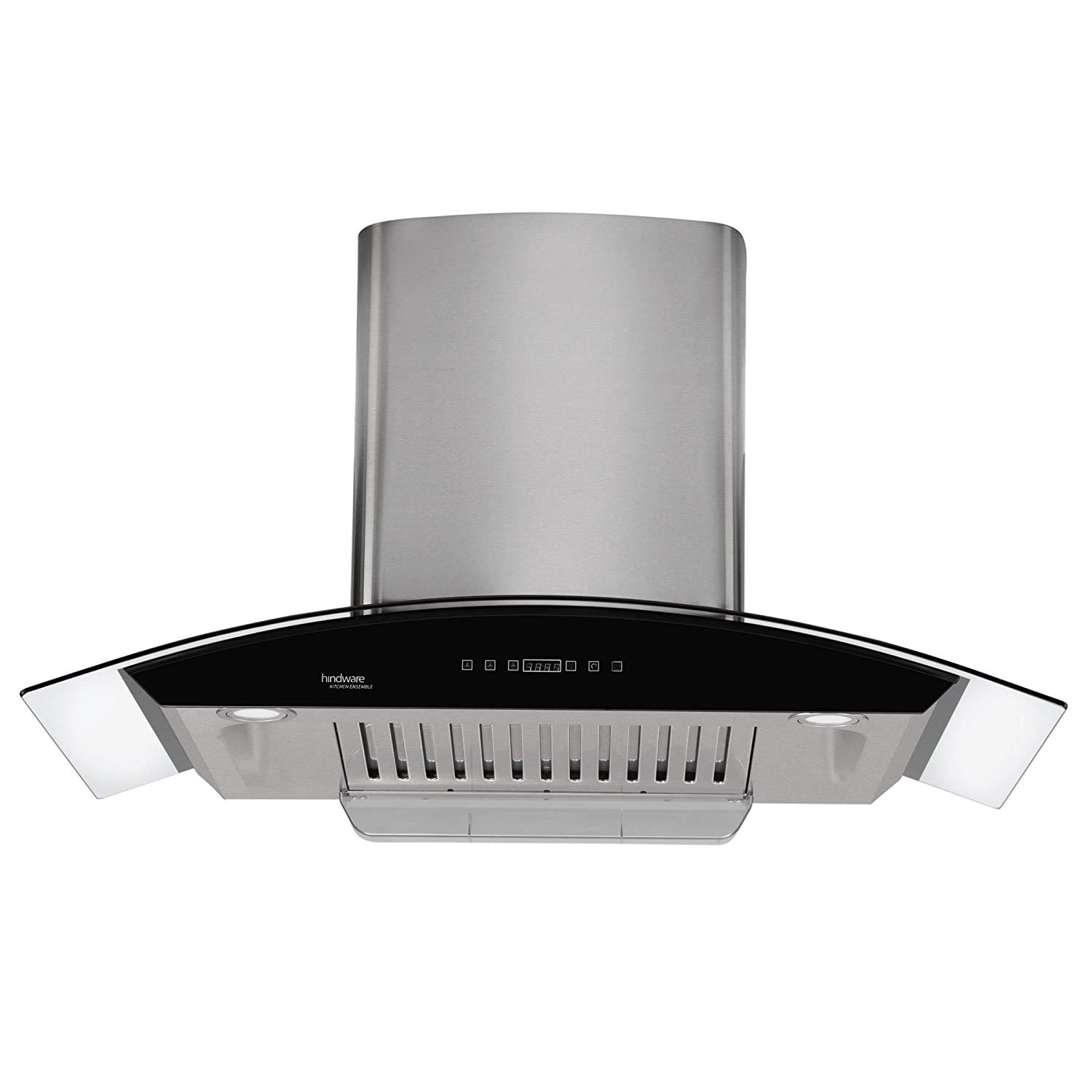 Another reliable and high-quality brand available in the Indian market is Hindware. This brand is domestic, so it has been present on the market literally since its establishment. Also, it is important to say that consumers have confidence in it. This is completely logical because they produce really fantastic home appliances.
This Nevio 90 is one of the best in the kitchen chimney segment and has really great features. First of all, it is made of stainless steel, which adds to the luxurious and elegant look. This one also has an automatic cleaning function. With one-touch control, the whole process is simplified and hassle-free.
Thanks to the baffle filter made of high-quality stainless steel, but also the oil collector can, all fats and oils will be trapped without any obstruction of air flow. Speaking of air, the maximum volume is 1200 cubic meters per hour.
Just like the previous chimney, the Nevio 90 also has two built-in LED lights for lighting while preparing meals. We must especially emphasize the size of this chimney because it can provide suction for up to 4 burners on gas stove. As for the warranty, there is a combination of a 1-year warranty for the whole device and a 5-year warranty for the motor.
3. Eurodomo Onyx PB BK 60 Kitchen Chimney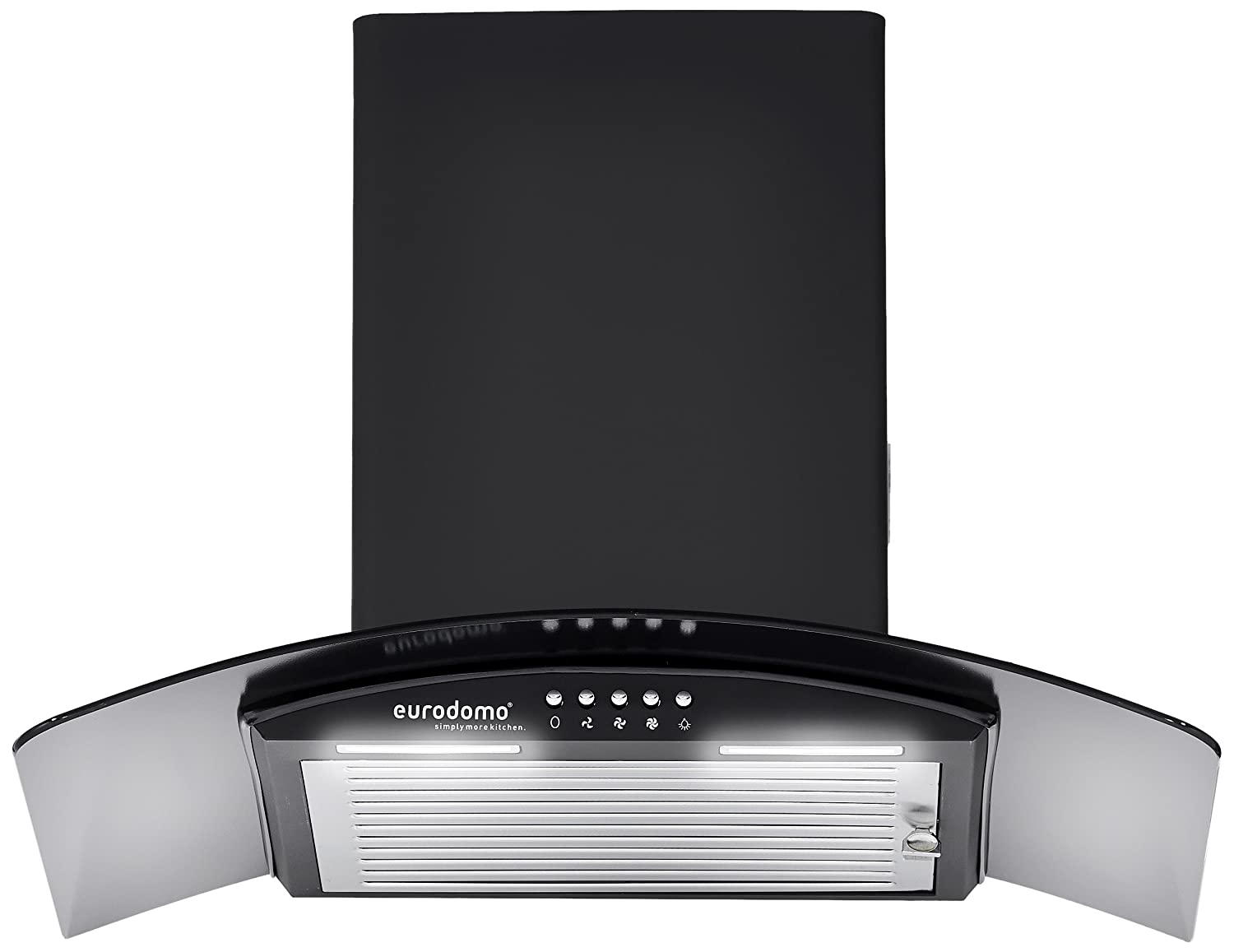 If you think that the previous chimney may be too big for your needs and you just want a model that can cover 2-3 burners on the stove, then we have a solution for you. This one by Eurodomo is the right thing for you. The width it covers is 60 centimeters so that is quite enough for a smaller countertop.
Overall, this one is really elegantly designed kitchen appliance and has everything a kitchen chimney should have. First of all, we must emphasize the tempered glass and the classy black finish that add to the elegance. There are also two LED bulbs on the left and right for fine countertop illumination.
When it comes to the main purpose, which is certainly the removal of smoke, dirt and grease, this Eurodomo is fantastic. It has stainless steel filters to capture particles and oil. Of course, there is also auto-clean feature to remove all the accumulated stuff on the filter. In terms of suction capacity, this chimney provides 1200 cubic meters per hour. We must also point out the fact that the noise level is 58Db, which means that in maximum operation it can become a bit noisy. The warranty is identical to previous kitchen chimneys.
4. Bosch 90cm 800m3/hr Chimney-DWB098D501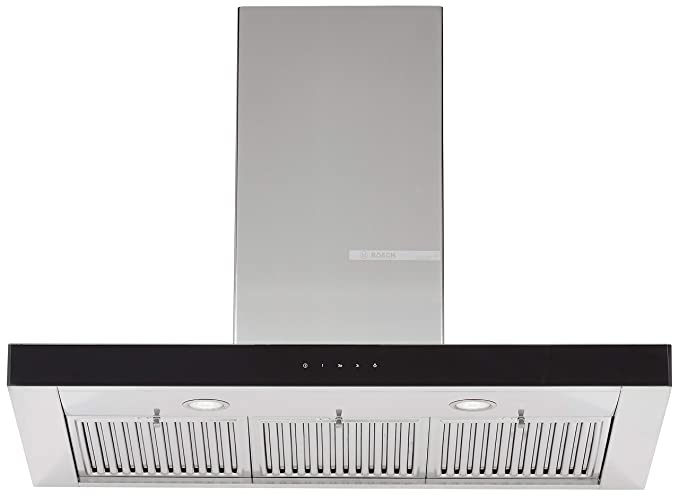 Last but not least is this kitchen chimney by Bosch. There is no doubt that Bosch is one of the most famous and reliable brands, not only in India but all over the world. This is justified by the superior quality, excellent design and longevity of their devices regardless of purpose. This DWB098D501 chimney does not deviate in any way from these standards.
Although it can suck less cubic meters per hour (800m3/hr), this chimney is definitely worth mentioning. Of course, this one also has filters to trap grease and other particles, as well as a box in which all accumulated dirt is stored after starting the automatic cleaning function. In addition, there are two built-in LED bulbs for lighting during cooking.
The design itself is very stylish and elegant. Thanks to the stainless steel, it will fit into any kitchen interior. In the end, we must say that we especially liked the longer warranty period than the previous models. By purchasing the Bosch DWB098D501 you get a 2-year warranty on the entire device as well as a special 5-year warranty on the motor.