Do you enjoy spending your time in the kitchen, preparing delicious food? If the answer is yes, and your favorite food is chutney, we have something for you.
What's the essential kitchen gadget in preparing chutneys? Yes, it's a mixer grinder.
To prepare perfect chutney, you need to have a good mixer grinder. And if you are on the lookout for a good and quality made mixer grinder, we've got your back.
We've made a list of the most loved mixer grinders you can find available on the market and a little buying guide.
How to find a perfect mixer grinder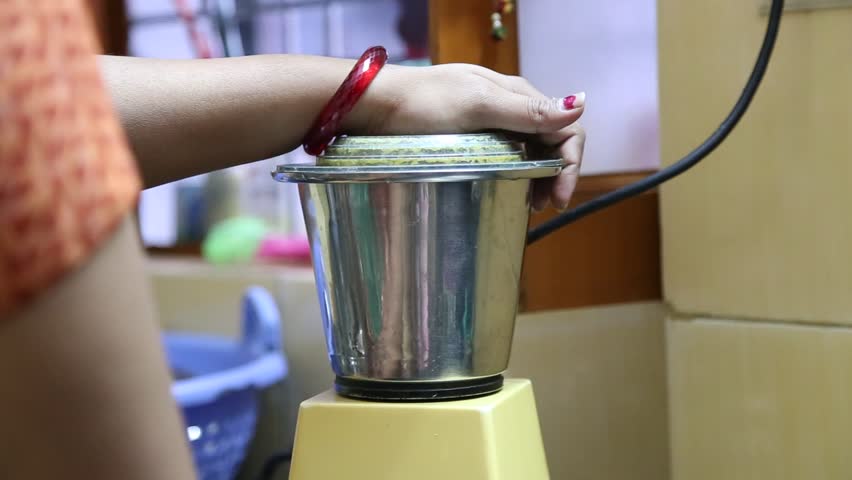 There are many great mixer grinders available out there, and sometimes it can be hard to find the right one. But, to know which one you should buy, you need to know what's available, what kinds of mixer grinders are available, and what's better.
Types of Mixer Grinders
The mixer – Mixer is a simple and essential kitchen appliance piece that you can use for making purees, curry paste, or batters.
Hand blender – You can use it for the same things as the basic mixer, but it's a hand-held piece, and it perfect if you prepare everything in bowls.
The grinder – If you want to grind spices, lentils, cereals, or other things into a powder, you need a grinder. You can grind wet and dry ingredients because the grinder has a powerful motor.
The mixer grinder – It's the best of two worlds is a combination of a mixer and a grinder. It's different because it has separate jars for wet and dry ingredients. The jars are made out of stainless steel, and they sometimes come with a detachable blade or a fixed one.
The juicer-mixer-grinder – If you thought that the mixer grinder was perfect, what do you say about the juicer-mixer-grinder? JMG is very popular because, alongside the grinding and mixing, you can also make yummy juices.
What do you need to know when buying a mixer grinder?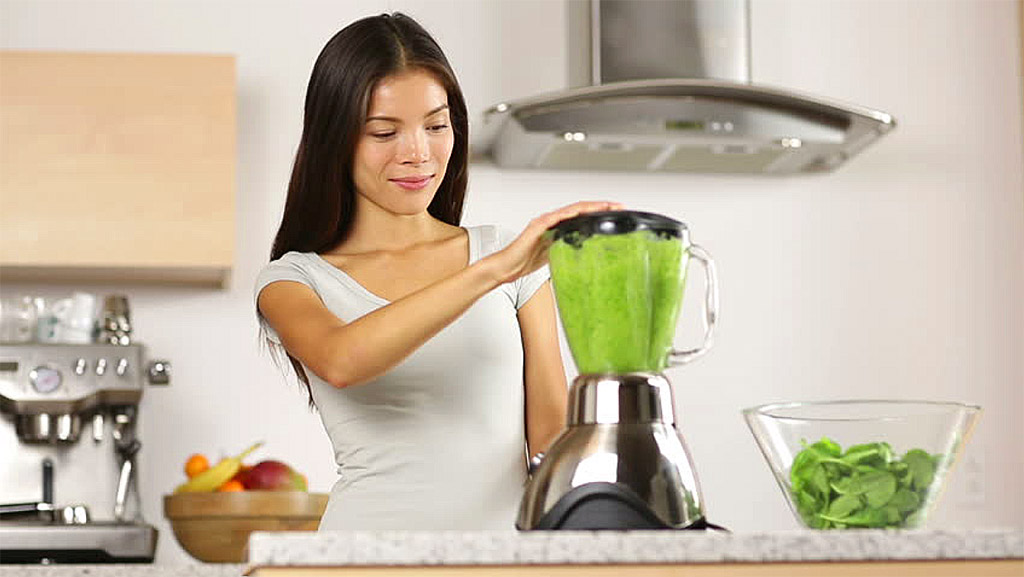 These are the things you need to consider when shopping for a mixer grinder, and we are going to explain them a bit.
Wattage – It's the power of the motor and the strengths of the machine. The higher it is, the stronger the machine is.
Design – This is not important only because of aesthetics; it's also about practicality. The two most popular designs are the tower and the L-shaped design. And you should know that tower one is easier to clean.
Safety – Always check the specs about the mixer grinder's safety and whether it has a locking system.
And finally here are the best Mixer Grinders available on the market in India:
1. Preethi Zodiac MG 218 750-Watt Mixer Grinder – five jars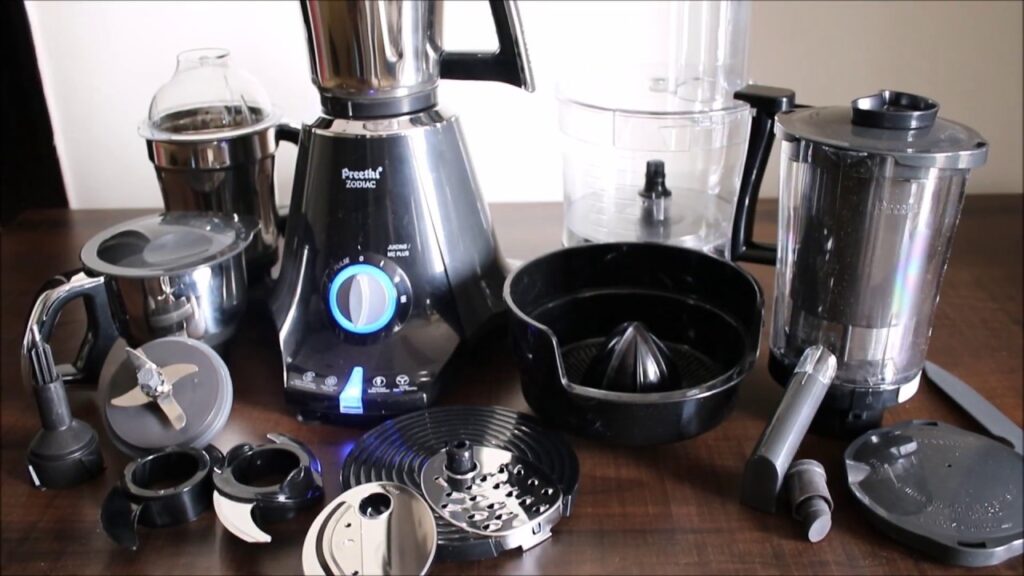 Preethi Zodiac is a powerful machine with a Vega 5 motor. It's perfect if you need to use it continuously for extended periods, because of its brilliant cooling capacity. It efficiently grinds heavy duty spices and lentils, and even kneads dough.
It comes with a centrifugal juicer attachment, and it can also extract milk from coconuts and the essence from tamarind. But that's not all. It also has a blender attachment. So, if smoothies or milkshakes are your things, this is the grinder mixer for you.
Its master chef plus jar can chop, knead, mincemeat, slice, grate, press citruses, and make a puree.
The precision and the best results are granted with this machine that rotates at three speeds.
PROS:
Excellent features and attachments
Powerful motor
CONS:
2. Sujata Powermatic Plus+ CH 900-Watt Juicer Mixer Grinder
Sujata Powermatic Plus+ is another machine with a mighty 900-watt motor. Because of the motor, Sujata can run continuously for almost 90 minutes. It's perfect for professional use, but you can also use it in your home kitchen.
The juicer feature works like a charm, and it has a honeycomb filter that removes everything that you wouldn't want in your tasty juice.
It comes with a wet grinding jar with sharp stainless steel blades for fine vegetable chopping. But, you also get two smaller jars perfect for chutneys and purees. The dry grinding jar is excellent for grinding any spice or food you can imagine.
PROS:
Mighty motor
Excellent mixing, grinding and juicing features
Can be used professionally
CONS:
3. Preethi Blue Leaf Diamond 750-Watt Mixie and Grinder – three jars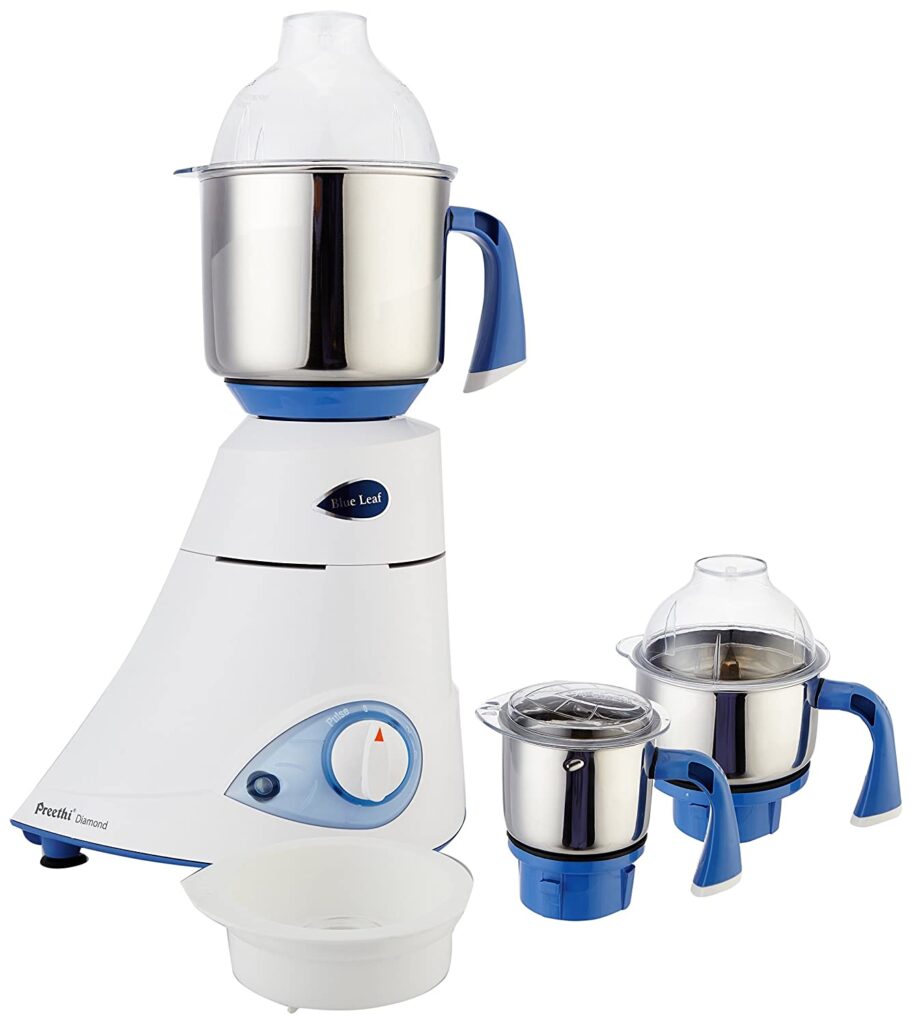 If you are looking for a brand that's known and appreciated in India, it's Preethi. Every Preethi product is high quality made and comes with superior performance. And this Blue Leaf Diamond mixer grinder is not an exception.
This product's grinding performance is impeccable due to its stainless steel blades and the variable running speeds. The motor is powerful, and this mixer grinder saves you energy.
It can't overload because it has a shock-proof body and a heat-sensitive cut-off feature.
PROS:
Great motor
Shock-proof body
CONS:
Doesn't have a wet grinding feature
4. Prestige Iris 750-Watt Mixer Grinder with three stainless steel jars + 1 Juicer Jar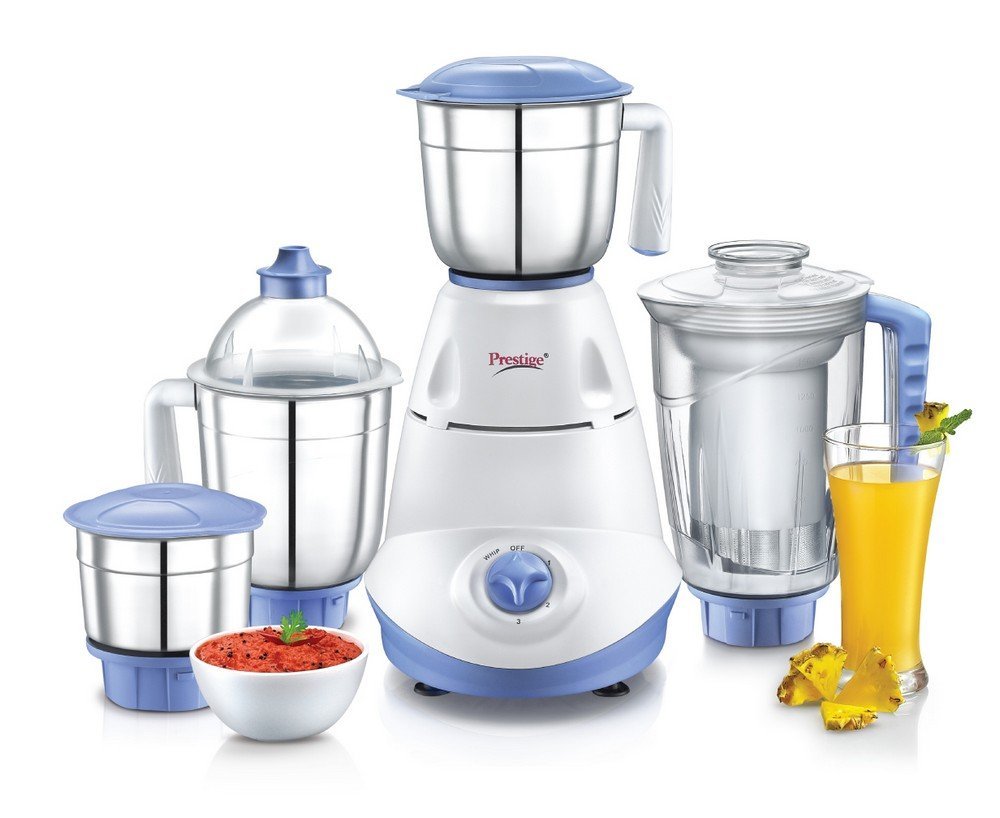 If you are looking for a mixer grinder capable of grinding heavy-duty foods, here it is. It can grind solid foods or blend fruits and vegetables.
It comes with three stainless steel jars with stainless steel blades that are very durable and easy to wash. And the juicer jar is made out of quality plastic.
The downside of this product is that it's advised that you don't run the motor for more than 5 minutes continuously, and compared with other mixer grinders on this list, that's little.
PROS:
Strong motor
Stainless steel jars
Can grind anything
CONS:
Can only work for 5 minutes continuously
5. Philips HL7756/00 750-Watt Mixer Grinder – three jars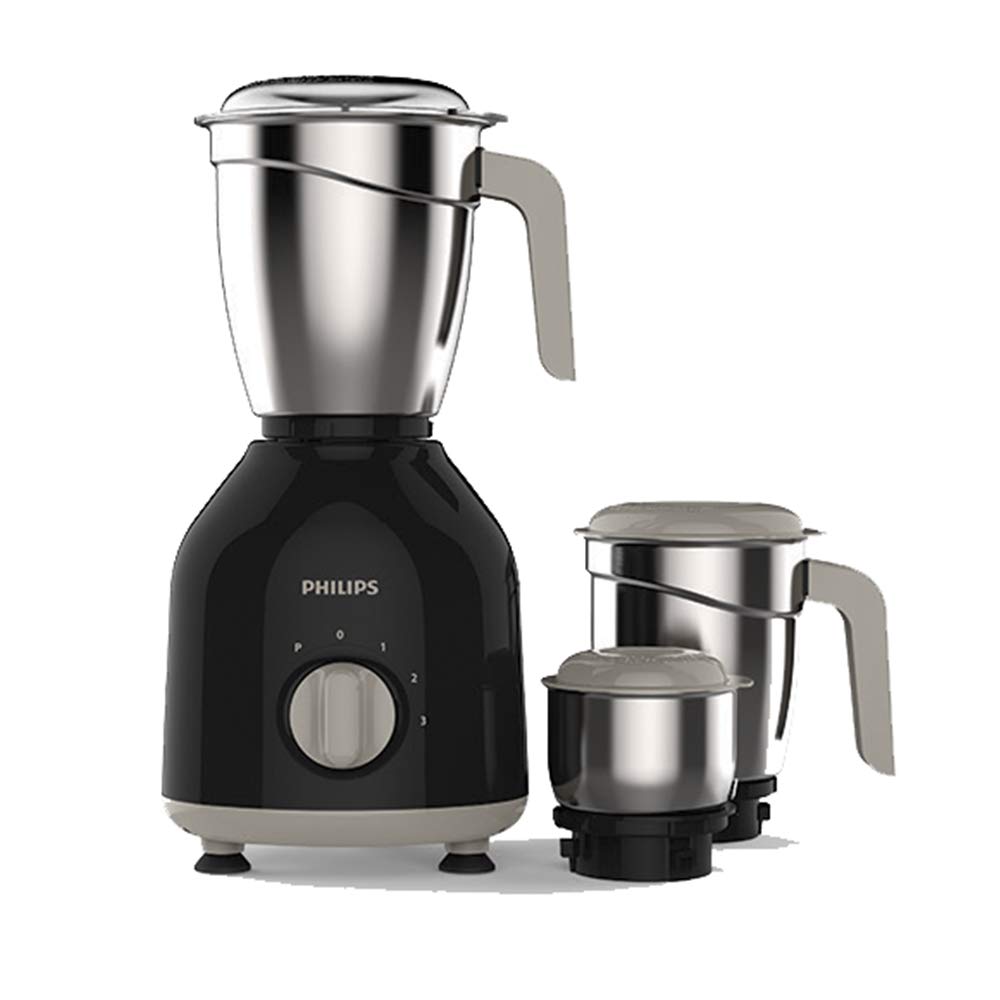 Philips is the best known and one of the highest quality brands out there. If you frequently make idli or dosa batter, you will love this mixer grinder because it can grind continuously.
The motor has an air ventilation system that enables cooling of the whole machine, so you don't need to worry about the motor heating up.
When it comes to grinding, it's perfect for any foods, spices, and ingredients. The stainless steel jars are the best and very durable.
PROS:
Easy to clean
High-quality motor
CONS:
The dry grinding jar lid doesn't have a gasket
Tell us which mixer grinder do you like the most and which one you will buy? We would love to know.