Can you imagine life without hot water at any time of the day, every day, throughout the year? Probably not. This is completely normal because we all need hot water for different needs, for example for bathing, cooking and even cleaning. Simply, hot water is needed 24/7.
However, in order to have hot water, we must have installed device called a water heater. We believe we all have at least one at home, so there is no need to explain what we are talking about, right. However, it is very likely that you did not know that there are several types of boilers. For example, we all know about electric and gas-powered water heaters. However, this is just a way of heating water, not a type of boiler. Did you know that there are tank as well as tankless water heaters, hybrid, solar and condensing water heaters?
You've probably heard of some of the types mentioned. However, today we will not invent hot water, but only show how to get it in a more efficient way thanks to the solutions offered by the market today. Below we have prepared some of the best water heaters in 2023, so, for whatever reason you need a new one, below you can find out more about it. Now, if you're ready, let's get started.
1. EcoSmart ECO 11 Electric Tankless Water Heater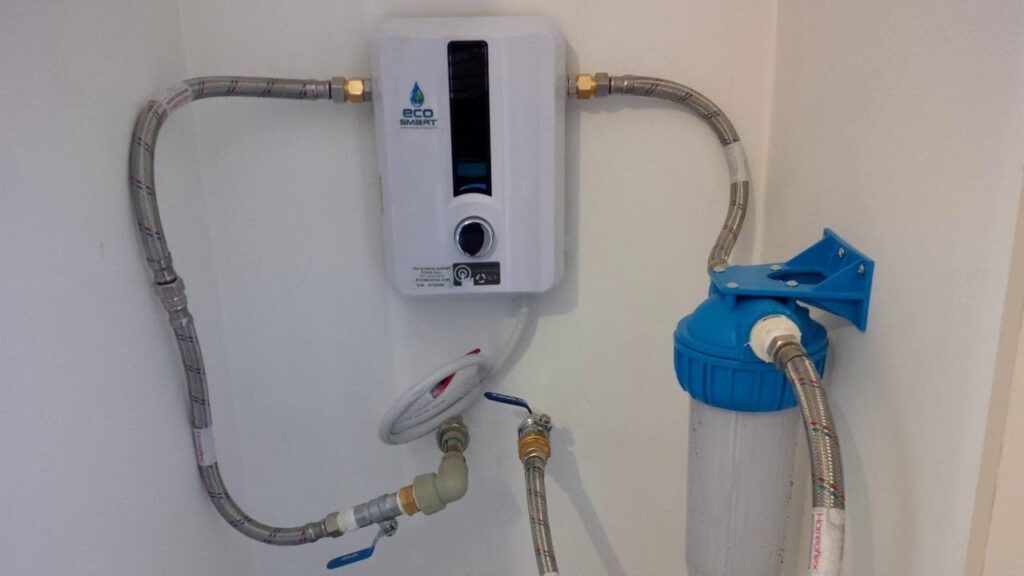 We believe that you all know about water heaters with a tank. Simply put, these water heaters are the most popular so there is no doubt that you also have one in the house. However, what about tankless water heaters? Have you ever had experience with that?
As with tank water heaters, there are also tankless units on the market that are powered by gas or electricity. However, due to the much cheaper price, our choice is this electric-powered ECO 11 by EcoSmart. The first thing we want to mention about this water heater is economy. Namely, thanks to the method of heating water using electricity, this water heater by EcoSmart brings up to 50% less costs that you would pay for this purpose. Therefore, this is a great investment that will surely pay off in a short period of time.
In addition, self-modulating technology allows the device itself to determine exactly how much energy it needs to heat water at a certain temperature. We especially liked the digital thermostat and temperature display, as well as very simple setting of the desired temperature. An impressive feature that speaks volumes about this ECO 11 water heater is the lifetime warranty! Yes, you read that right, lifetime warranty!
2. Rheem Hybrid Smart Tank Water Heater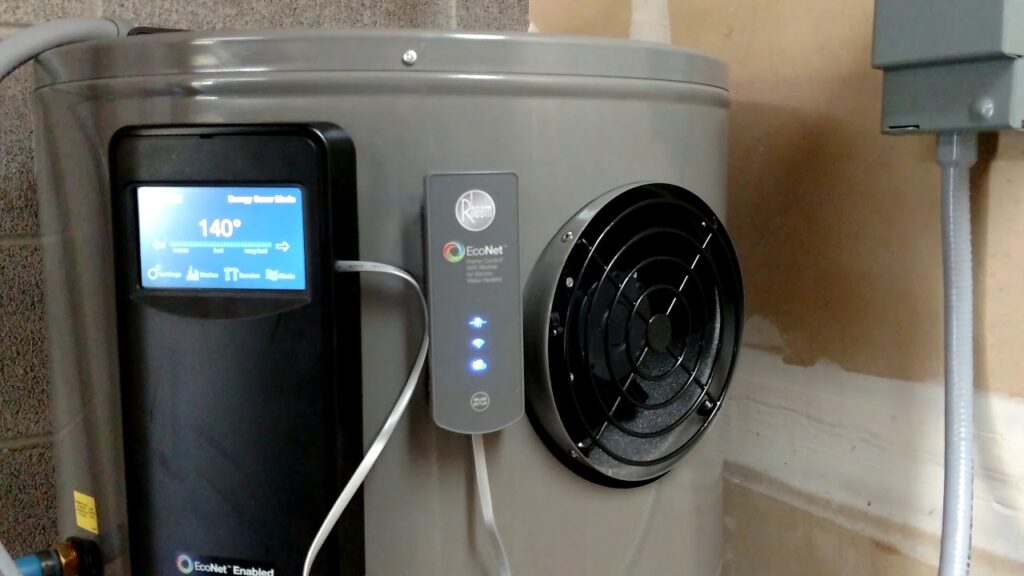 When it comes to water heaters, Rheem is one of the most famous and reliable brands at the moment. They simply produce different types of water heaters so there is no doubt that you will be able to find what you need. When it comes to this particular model, this is a hybrid smart water heater. What exactly does a "hybrid water heater" mean? So, this type of boiler uses electricity, which means that it is environmentally friendly.
In addition, the hybrid water heater by Rheem is very economical because it consumes very little of energy. According to some information, this unit consumes up to 4 times less energy than other electric models. Last but not least feature of this hybrid water heater is the ability to easily adjust it to your needs.
However, economy and versatility are not all this hybrid by Rheem has to offer. We also have an 80-gallon tank here, which is more than enough for the average family. Another fantastic feature is the built-in Wi-Fi module for remote control of the unit. Through the EcoNet application for smartphones, you can set certain parameters, but also receive warnings and notifications about the operation of the hybrid boiler.
3. Solar Richmond 6-Year 4500-Watt Universal Connect
If previous hybrid solution didn't seem environmentally friendly enough, then this by Solar Richmond is the right thing for you. Namely, this one is extremely efficient because the water is heated exclusively thanks to solar energy, which is free. So, the initial costs will surely pay off in the future. In case there are not enough sunny days, you can use support of the electric heater.
This unit also has an 80-gallon storage tank which is usually enough for the average family. Interestingly, the tank and lining are made of quality rust-resistant materials so you can relax when it comes to that. Also, the tank is covered by a fantastic 6-year warranty.
As for the installation, the process is quite simple. Here you also have several inputs for the collector closed-loop glycol system depending on whether you use a single or double collector. Basically, this is a great water heater and an investment that will pay off many times over in the years after purchase.
4. Takagi T-H3-DV-N Condensing Tankless Water Heater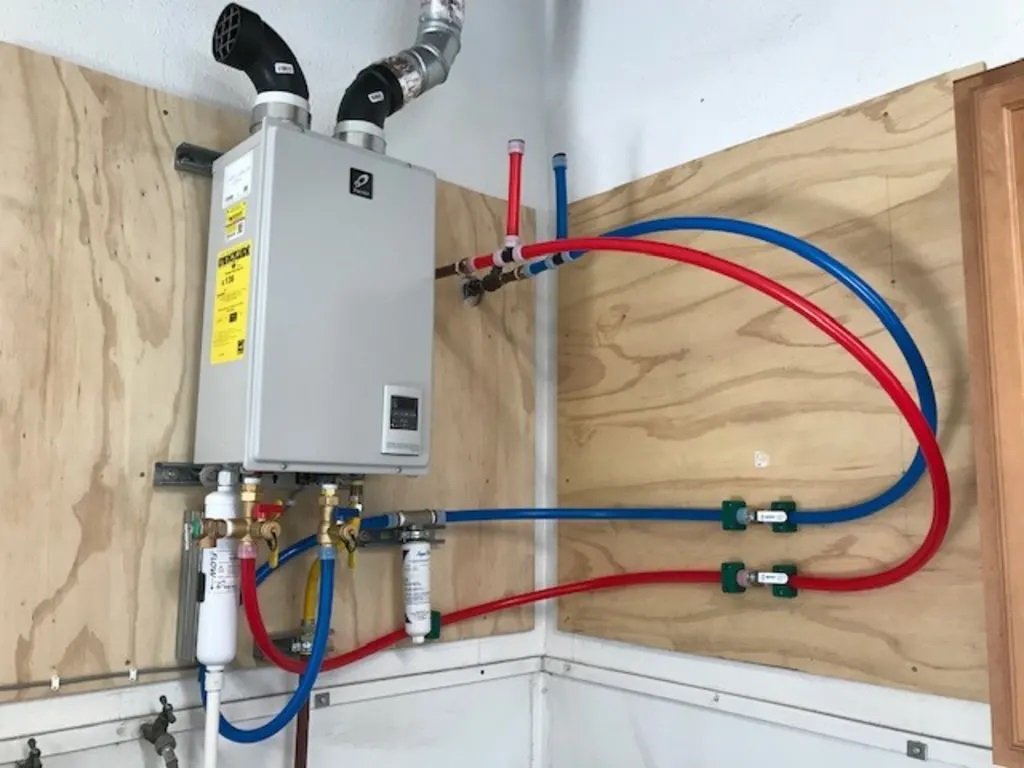 Another very efficient water heater is this one by Takagi. Namely, this is a condensing tankless boiler which is a type that, in short, is based on the extraction of heat from the exhaust gas. This one by Takagi is currently one of the best choices on the market.
This boiler is also Energy Star-labeled which confirms the efficiency. Inside, there are two heat exchangers made of premium materials (copper alloy and stainless steel) for high durability.
We must also praise the superior security and protection. Takagi has built overvoltage protection here, but also freeze and overheat protection.
5. Camplux 5L Portable Propane Tankless Water Heater
Have you ever needed hot water when you are outside? You probably did and no doubt you know that feeling when you have to go back to the house to get hot water. Well, now it's over, thanks to a portable water heater by Camplux.
This device is fantastic because it supplies you with a great amount of 1.32 gallons per minute. The water can be heated to up to 114.8 degrees Fahrenheit. However, the most interesting thing is the accessory in the form of a hose and head for showering. That's right, now you can literally take a shower outside right after work is done. Crazy, but efficient.
Conclusion
Now, if you have carefully checked our list of the 5 best water heaters in 2023, there is no doubt that you are one step closer to choosing the right one. We hope we have been able to help you.