When it's just too hot outside, the best drink on hot summer days is juice. However, many forget this fact and resort to some easier solutions. For example, it is much easier to buy a bottle of soda, or some other carbonated drink, than to make a natural drink that is nutritious, full of useful ingredients and, above all, very healthy.
On the other hand, the solution we are talking about is the juice of 100% natural and healthy foods – fruits and vegetables. First of all, fruits and vegetables are very easy to find, literally on every corner. Also, juice made from these foods is much, much healthier than any other beverage you can buy anywhere. Therefore, if you agree with us, it is time to prepare a fantastic and healthy juice that will cool down and refresh you in a right way.
However, before you make juice, you need to have a juicer. It is an electric home appliance that will allow you to make juice the fastest and easiest way. However, given that the market of these home appliances is very large and that there are different brands and models, it can be difficult to pick the right one. Fortunately, we decided today to help you, especially if you are from India. In the following article, we will present you some of the best juicers that the market in India has to offer and try to give a as precise and clear overview as possible. So, if you're ready, let's get started.
1. Hestia Nutri-Max Cold Press Juicer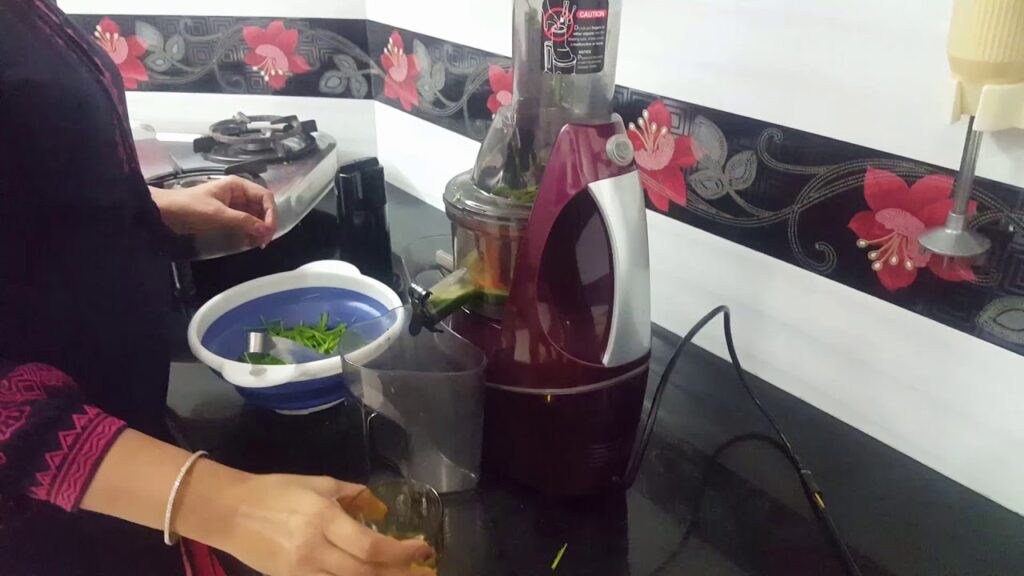 When it comes to juicers, there is no doubt that there are those you need to pay special attention to, both because of the reviews of other satisfied users and because of the performance. Simply put, this cold press juicer by Hestia brings you both of mentioned, quality and performance.
First of all, the fact that it is a cold press juicer means that this home appliance is quiet while working, as well as that it brings maximum juice from the fruit or vegetables that you put inside. This is very important because you do not want to throw away most of the beneficial ingredients found in these foods.
This juicer by Hestia is powered by a 240W induction motor that will cope even with frozen foods without any problems. Also, a 75mm long feeding tube will provide you with even faster juice making because you won't have to chop into smaller pieces, while two outlets will allow the juice to drain faster.
When it comes to cleaning, Hestia Nutri-Max cold press juice is very easy to maintain. The most interesting feature of this juicer is the long warranty period of as much as 10 years on the motor and 3 years on other electronic parts.
2. Sujata Powermatic PM Juicer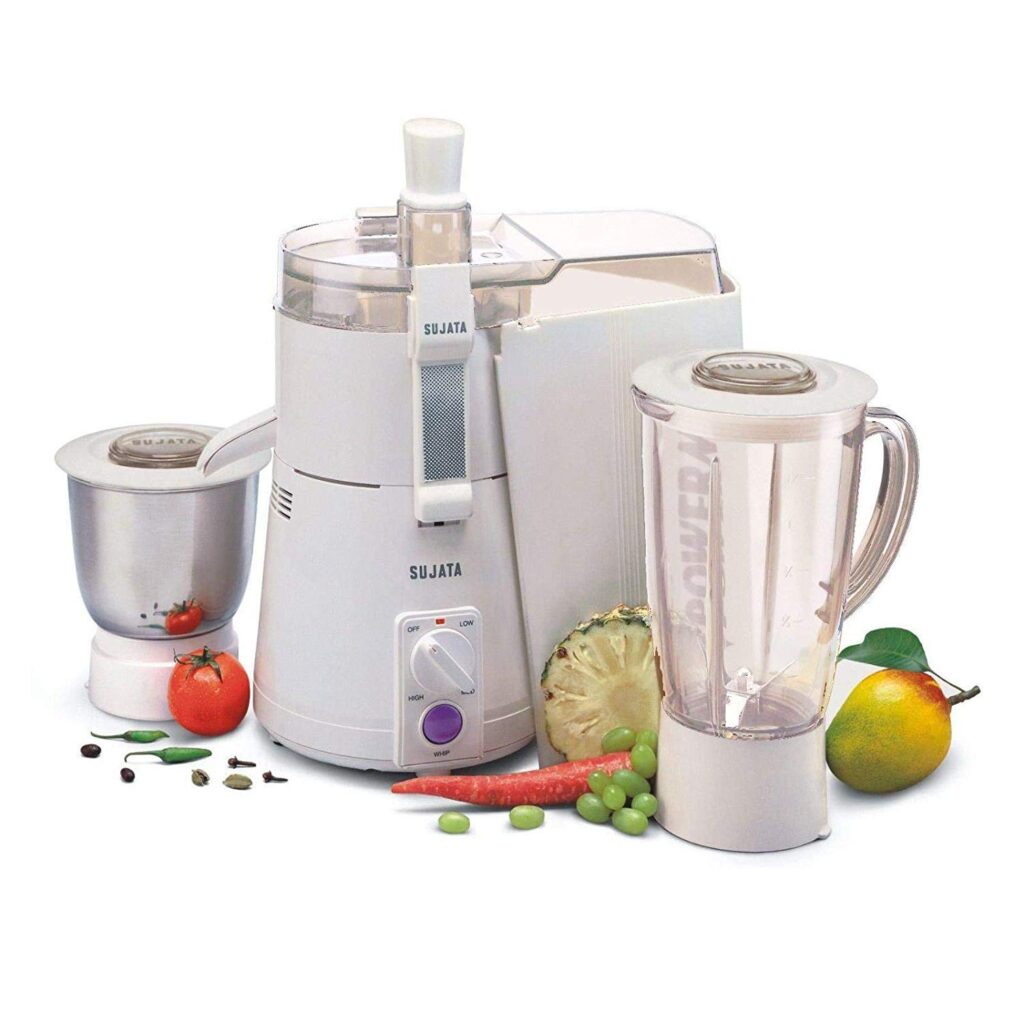 If you need even more power, then this juicer by Sujata is the right choice for you. This one is powered by a 900-watt electric motor capable of very easily and efficiently extracting fruit or vegetable juice.
As for the volume of the main container, it stores up to 1 liter of juice, which is more than enough for your whole family. Working with the Sujata Powermatic PM juicer is very simple and safe thanks to the on-off switch. Also, this one is both shockproof and made of safe material. With the addition that the body is completely white, this juicer is not only durable and sturdy, but is also beautifully designed to fit perfectly into any kitchen interior.
It is important to mention the presence of honeycomb filter, which means that you get a finer juice every time, but still with all the necessary and healthy ingredients. Also, stainless steel blades provide longevity and better extraction. In the end, one thing could have been a little better, and that is the 1-year warranty period. We believe that the manufacturer could have offered a slightly longer warranty, given that this is a "Made in India" product and intended specifically for the domestic market.
3. Philips Viva Collection HR1863/20 Juicer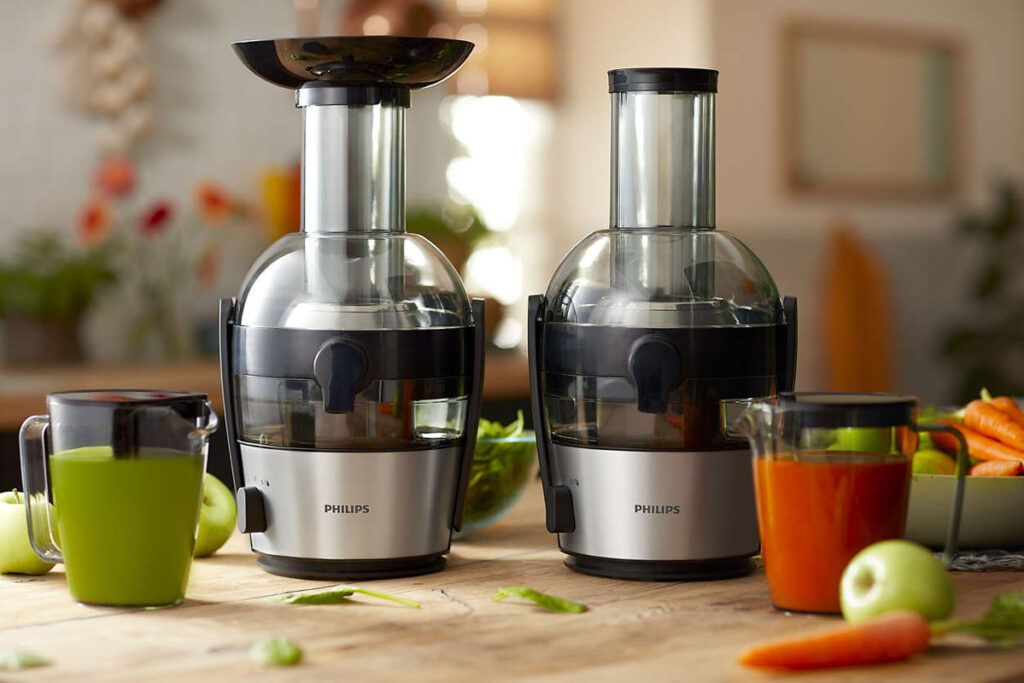 When it comes to Philips home appliances, there is no need to talk much about quality. Simply, these devices are reliable, high-quality and have an excellent price-quality ratio. The same is the case with their HR1863/20 juicer from the Viva Collection. However, in addition to all mentioned, this one also has QuickClean technology which, as the name suggests, allows for super easy 1-minute cleaning.
Similar to previous models, this one has a 75mm long feeding tube for juicing whole fruits and vegetables. Another thing we like is the transparent pulp container and lid so you can literally watch your super healthy juice being made but also to not overfill the container.
When it comes to the motor, this juicer has a really powerful one of as much as 700W, which provides an even easier and faster process of making juice. However, perhaps the most significant feature is the large volume of the main container of this juicer which allows you to make as many as two liters of juice! So, this is a best-buy if you have a large family.
4. Panasonic MJ-L500-150-Watt Cold Press Slow Juicer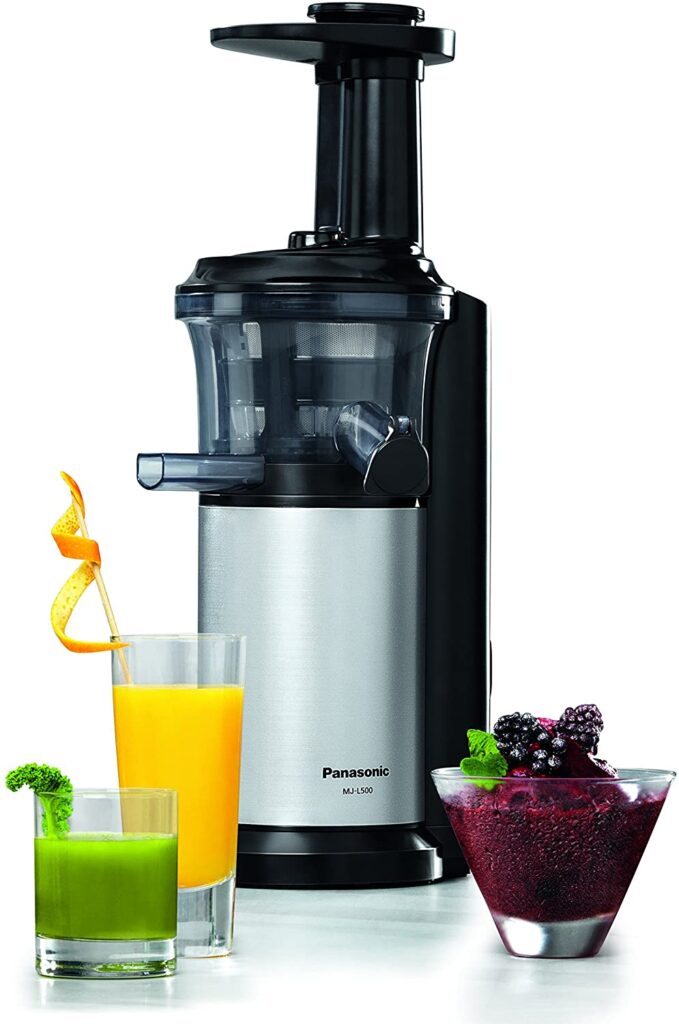 Another cold press juicer is the MJ-L500 by Panasonic. This brand is also very well-known and popular in the Indian market, so there is no need to talk too much about the quality of a wide range of small home appliances, which certainly includes this juicer.
It's powered by a 150-watt electric motor that's almost noiseless, yet quite enough to deal with all the groceries you put inside. For example, frozen fruits or vegetables will not be a problem for this juicer by Panasonic. When it comes to design, at first glance you can conclude that it is a very elegantly designed small home appliance that will fit perfectly with other appliances in your kitchen.
If you've been wondering what "slow" in the name of this juicer refers to, it's about slow compression system. Namely, this innovative system brings better extraction of juice from vegetables or fruits so that you get the most from what you put in the feeding hole. Speaking of feeding hole, we have to emphasize that it is a bit smaller, so you will probably have to chop the food you put inside.